We hit our lowest retirement spending this month. Our spending was very bare bones given the stay home stay safe order in Washington state. The whole chaos was hard. I was very much looking forward to being normal after being on a modified bed rest. The COVID-19 virus also brought some anxiety in our family. Our son, MBP has a weak lungs, as a result of prematurity. Just last January, we were on urgent care for a cold that needed a breathing treatment. The traumatic experience from the NICU and post partum hormones are not good combination. I am better now but I still have some overwhelming days. My body adjusted with lack of straight sleep. I still get 6+ hours of sleep at any given day, just not straight.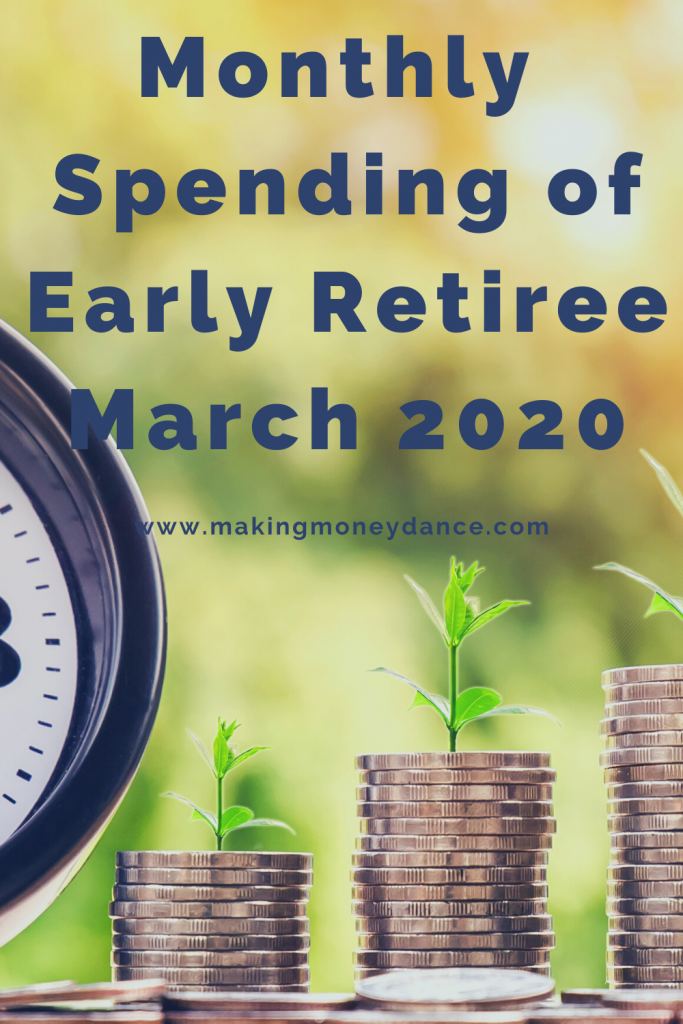 In March we spent $1,685.85
Food – $646.93
It makes sense that this was our highest spending for three months straight now. We didn't eat out, but we stock up on groceries. We also ordered some food from Amazon. We were able to stay in for three weeks before my husband have to do a grocery run. We probably could have go on for 4 weeks, but we ran out of fresh veggies and fruits and some key ingredients for a meal.
Utilities – $200.91
This was for sewer, electric and gas. Gas was pretty high this month since I set our heating to 65 C at night. I thought that it will help our baby sleep through the night. It didn't. I moved it back down to 55 C.
Kids – $114.51
I ordered 2 copies of AHP's birth certificates, some baby wipes, MBP's rain boots and some bubble juice. I bought MBP some rain boots since his class will start having some outdoor time rain or shine. He haven't used it because (1) He complains that it is too heavy for him and (2) His class was cancelled for the year.
Internet – $99.9
This was for 2 months. The February bill was posted in March.
Pet Supplies – $92.93
We bought our furbaby her kibble and her monthly treats.
Gas – $17.5
We didn't go anywhere in February.
Shopping – $16.38
Socks for the Mr. because a lot of his socks have holes.
Mobile Phone – $15.97
Another month with a very inexpensive mobile phone bill for 2 lines through Xfinity Mobile.
Subscription – $12
Monthly payment for Amazon prime and a subscription for PBS channel for a month. MBP really loves Daniel Tiger and we are getting tired of seeing both Season 1 and Season 2 over and over and over again. We tried getting MBP to watch other shows, but his answer is always no – he wants to watch Daniel Tiger.
Electronics and Software – $.57
This is my AWS bill for hosting this blog. I am almost done with the promo year and I will need to find a way to move this site somewhere else. I think there is a way to keep it in AWS.
| Descriptions | Amount | Comments |
| --- | --- | --- |
| Groceries | 646.93 | 3 trips to Costco, 2 at WINCO and 5 orders from Amazon |
| 529 College Fund | 400 | |
| Utilities | 200.91 | Electric, gas and sewer |
| Kids | 114.51 | 2 copies of AHPs birth certificate, rainboots and bubble juice for MBP |
| Internet | 99.9 | 2 months through Xfinity |
| Pet Food & Supplies | 92.93 | Kibble and monthly treats |
| HOA Dues | 68.25 | |
| Gas & Fuel | 17.5 | Gas |
| Shopping | 16.38 | Mr MMD's socks |
| MobilePhone | 15.97 | 2 lines from Xfinity mobile. |
| Subscription | 12 | Amazon prime subscription and one month subscription to PBS Kids |
| Electronics & Software | 0.57 | AWS fee to host this blog |
| Grand Total | 1,685.85 | |