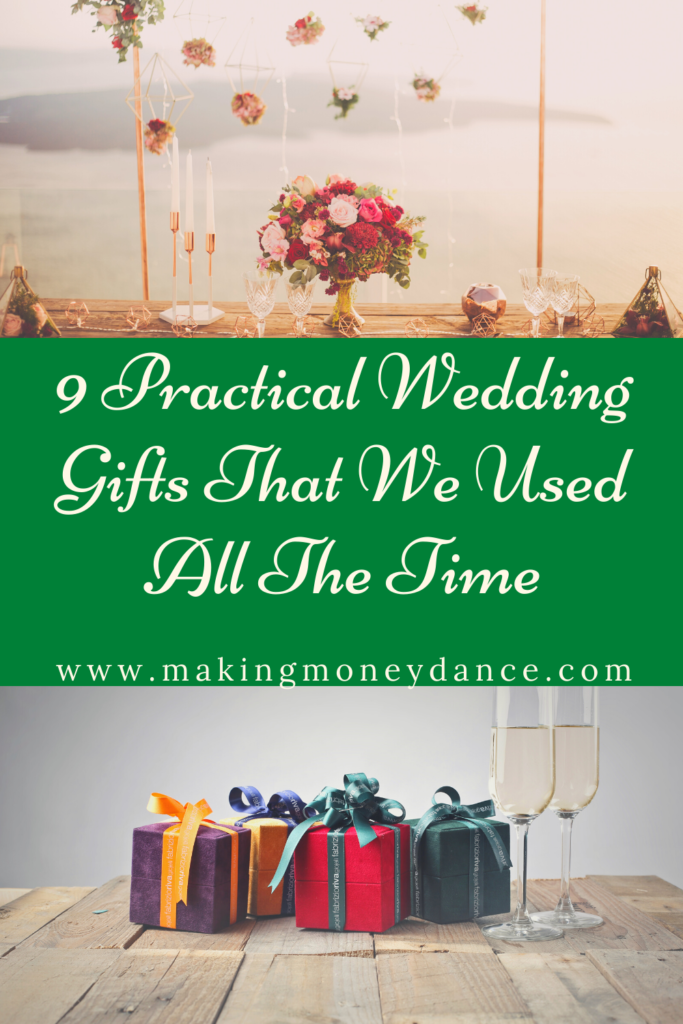 Picking items for our wedding registry was one of the most stressful part of our wedding plan. It is weird, I know because registering for wedding gifts should be fun, easy, stress free and can be done in the comfort of your home.
My husband and I already live together before we got married. We bought a house a year before getting married, and prior to that, we were already living in a 2 bedroom condo. He already owned his own condo, furnished with everything that we practically need, when he moved in with me. At that point, we have 2 of everything. My husband paid for someone to take some of his furniture to junk. It is ridiculous.
Since we have everything we need, we only registered for 23 items. We registered at Amazon because I don't like going to brick and mortar stores. We used the wedding as an opportunity to replaced items we have or get items that we will never buy ourselves.
Here are the 9 practical gifts that we use ALL THE TIME
The links below are affiliate only for those items that I recommend and actually uses.
We didn't register for a china. Instead, we (I mostly) decided to replace my old sets of plates. I liked the old plates, but it was thick, heavy and takes a lot of space. I'm a big fan of Corelle, but I want something more than just white. When I saw these pieces, I registered for 3 of the 16 piece set, which will give us 12 pieces of each. For some reason our gifter gave us 4, so now we have 16 of each. We donated our old set. We uses our Corelle every single day!
This is another food related item. I brought my own lunch majority of the days before we retired. I have exactly 5 sets of pyrex bowl that I uses. We also started cooking a lot more when MBP was born. This became very handy for left overs. The small containers can hold cut up fruits/ berries or crackers for MBP.
I like these glasses since you can stack it. We used it all the time. We didn't handle it well so we lose it piece by piece. I think we only have 2 of the original 10.
This was suggested by my husband. He knows more about our tech needs and suggested that we replaced our old one. It's still working after 3.5 years and I have no complaints.
I've been wanting to replace my old set with a new one. The old one was no longer flat because of everyday use. We cook a lot and this one gets a ton of usage.
These are great bowls, especially for the price. We thought about getting one ourselves but since we're running out of ideas to add to our register, we just registered for it. We used it for mixing, or serving chips, fruit salads and sometimes a toy for MBP.
OXO Good Grips Utensil Set, 3-Piece, OXO Good Grips Wooden Spoon Set, 3-Piece, OXO Good Grips Wooden Corner Spoon & Scraper
We used this opportunity to get some wooden utensils for cooking. We used it almost daily. It's not exactly the best quality, but it serves our needs.
I love these pans. I then added more pieces to this. It bakes evenly and doesn't stick.
Mr. Coffee 12 Cup Programmable Coffee Maker with Thermal Carafe Option, Chrome
We have 2 coffee maker, one for decaf (me) and one for a very strong coffee (my husband). My husband uses this one. I prefer Carafe than single pods since we only brew once in the morning and drink it through out the day.
Here are the items that we used occasionally
Home Essentials & Beyond Del Sol Glass Beverage Drink Dispenser With Knobbed Lid, Chalkboard On Chain, On Metal Stand and Raised Easy Flow Spigot, 1.5 Gallon for Picnics Parties Bbq
We probably used this twice? We rarely host parties at home. If we do, we usually buy individually packed drinks.
GoSports Cornhole PRO Regulation Size Bean Bag Toss Game Set – Foldable (American Flag, LED, Black, Red & Blue Designs)
I never thought that we will receive this. My husband want it for fun. We did have fun with it and used it for MBP's 1st and 2nd birthday and some 4th of July party. Sadly, a kid jump on it and broke one piece. It's just being stored now in the garage, broken.
Hamilton Beach 1.7L Stainless Steel Electric Kettle 40893
We finally upgraded to electric kettle. I use it occasionally when I want some tea. This is probably not the best quality, but it heats water and gets the job done.
KitchenAid KFP0722CU 7-Cup Food Processor with Exact Slice System – Contour Silver
My husband mainly uses this. It is good to have when you have to cook for a party. I prefer cutting with knives if it's just one or 2 pieces since it's a pain to clean this.
Here are the items we used once or never uses
Bissell SpotClean ProHeat Portable Spot Cleaner, 5207F
We used this once, but it's a pain to clean it after use, especially if you're cleaning nasty things. I'm pretty sure we "forgot" to clean it and I'm not even sure if it made the move.
Great Northern Popcorn Original Stainless Steel Stove Top 6-1/2-Quart Popcorn Popper
I don't know why I register for this. I don't even like popcorn. Suffice to say, it's never been used.
Weanas Professional Backpacking Tent 2 3 4 Person 3 Season Weatherproof Double Layer Large Space Aluminum Rod for Outdoor Family Camping Hunting Hiking Adventure Travel
Who am I kidding? I'm not really a "rough it out camping" type of gal. I like day hikes and being able to shower and sleep on my own bed after (or at least a cabin with a bed). This one haven't been used.
How about you? What are the wedding gifts that you uses all the time?