My husband and I switched to Xfinity mobile a month before our early retirement. We were fairly happy with our old plan in T-mobile, but we don't get coverage in the new house. Verizon have a new cell tower in the area and have great coverage.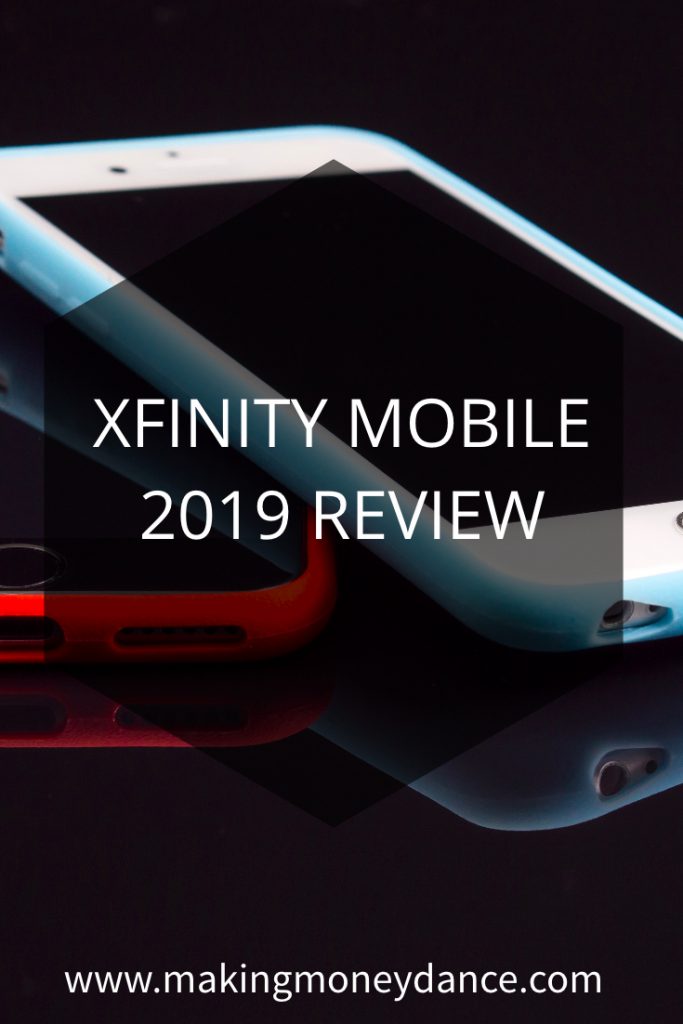 Pre Early Retirement Cell Plan
I've been a T-mobile customer since 2012. My plan was the cheapest plan. T-mobile actually stopped advertising it. I was on a prepaid plan. I received, unlimited data, unlimited text and 100 minutes per month. I was paying 33.98 per month, tax inclusive. My husband moved in with me in 2014, he switched from Verizon to this same plan. HIs bill went down from $60+ to $33.98. At that time, T-mobile only sell this plan through Walmart. They don't advertise it. I can't even find this plan on their website. So since 2014, we were paying $67.96/month for our cell plan.
We found out about Xfinity Mobile as recommended by our neighborhood page group. Everyone says good things about it, which surprised me — because you know it is Comcast. I've been a Comcast customer because I don't have a choice – it's the only provider that gives decent speed in our area. I'm only paying for internet. We don't have a cable and our phone is through Google which is a one time cost. I don't want to bundle another product with Xfinity, so I had my doubts.
Xfinity Mobile is a Mobile Virtual Network Operators (MVNO) operated through Verizon Networks. Verizon have a better coverage than T-mobile, according to review.org. This is already an upgrade for us. Customers are also automatically connected through Xfinity Hotspots. Their plan is only available if you are an existing Xfinity Customers.
Our plan
Xfinity mobile plans allows us to share data and pay only for the data we used. 1GB starts at $12 per month. We are retired, so we are not planning to use much data. We use wifi most of the time or use Xfinity Mobile Hotspots. We were using 2GB pre-retirement. This slowly went down to 1.5 GB to less than 1 after retirement. Our bill ranged from $40 – $19. Our last bill came in at $18.24 including fees for 2 lines, using .77 GB of data. We can save 49.72/month if we really want to cap our usage to 1GB. Even if we go on the high end of 2GB, we are still saving money compared to our previous bill.
Other Deals
Xfinity Mobile were offering customers $100 prepaid debit card if you bring in your iPhone. My iPhone is unlocked and it was a breeze to bring in the phone. My husband's phone is an Android phone, owned by his former employer. We either have to get a phone through Xfinity if he wants to keep his Android or get an iPhone. My sister has an old iPhone with crack screen. She gave it to us for free and it cost $97.99 to get it repaired. We unlocked the phone and port my husbands number to Xfinity. We also received another $100 prepaid debit card as part of the offer.
Savings
We have saved 345.53 for 4 months of usage, including the offer that we were able to avail. I've been pretty happy with the service and pleasantly surprised with the coverage, especially the hotspots.
| Month | T-Mobile Plan | Xfinity Mobile | # GB used |
| --- | --- | --- | --- |
| Month 1 | 67.96 | 39.16 | 2.34 |
| Month 2 | 67.96 | 39.16 | 2.64 |
| Month 3 | 67.96 | 29.75 | 1.34 |
| Month 4 | 67.96 | 18.24 | 0.77 |
| Total | 271.84 | 126.31 | |
One Time Deal: $200
Total Savings: $345.53
Surprisingly, I recommend Xfinity Mobile, if you are looking to lower your cost and do not need much data.