We visited the Washington State Fair this month. One of the greatest gift of retirement is a gift of time. We visited on a Monday after MBP's nap. We didn't have to fight over long lines. We also live fairly close to the fair, so it didn't take us much time to go there. This was only my second time visiting the fair since living in the Pacific NW for 17 years. The total cost for an afternoon visit with a toddler was $50.31.
Here's the breakdown of what we did and what we spent on:
Admission / Parking – $10
My husband received an educator ticket since he is volunteering to teach CS in a local high school. One of the volunteers haven't shown up so he received another one. Children under 5 are free so MBP is free. Our overall admission cost comes down to zero. Regular adult admission ticket is $14. You can plan well in advance to get a discounted ticket on some local stores before the fair open. I also saw quite a few tickets that was gifted through our local buy nothing group by the last week of the fair.
We drove to the fair and parked at the nearest parking lot closed to the farm animals / petting zoo. Parking on weekdays is $10.
Rides / Attractions – $10
We knew that MBP is not tall enough for most of the rides, even the kiddie ones, so we went to the fair mainly for the animals. I was pleasantly surprised with the Sillyville farm, which offers a "farmer for a day" experience in a 1.5-acre farm area and teaches kids farming concepts. MBP is too little to understand the farming concept, but he was given a lunchbox where he can collect milk, eggs, wheat and vegetables on each station. He then exchange his haul in the farmers market and was a given a snack for his "work". This was free and I'm sure we will visit it again next year when we visit the fair.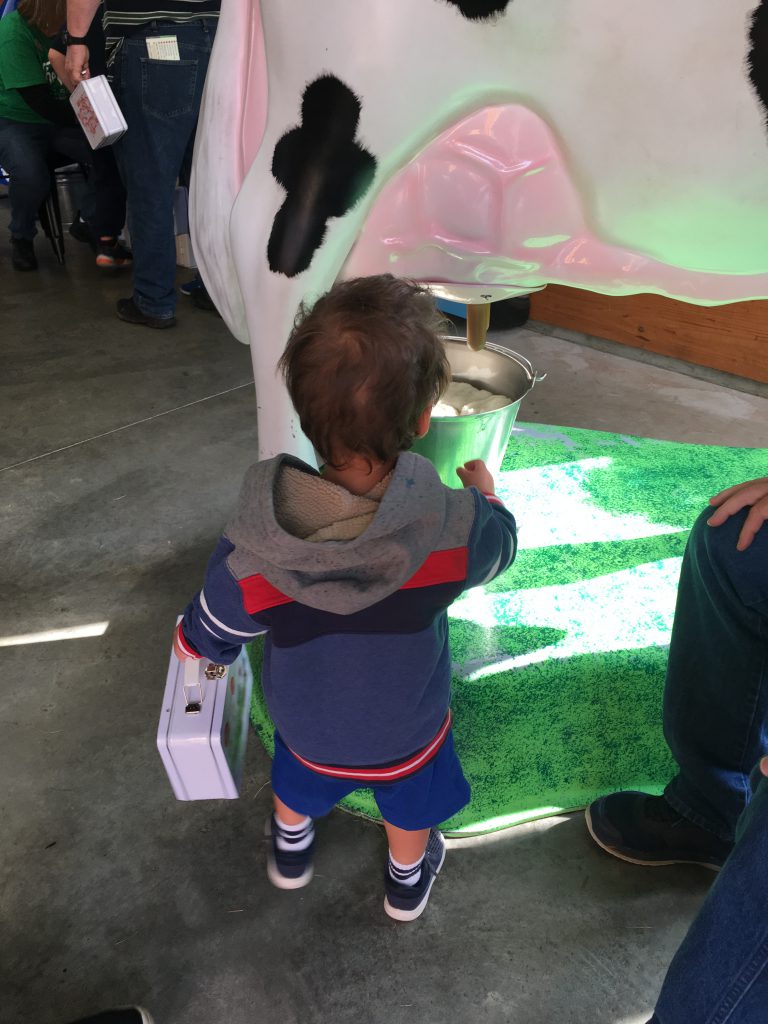 We saw a carousel with real ponies and ask MBP if he wants to ride it. Of course he does.!! It cost $10. I was surprised that he wasn't scared of the pony. He keep on "neighing" and shouting "horsy" the whole ride. He rode a pony named Max, which is also MBP's first name.
We then spend the rest of our time in the fair farm where MBP got to pet some goats, rabbits chicks, sheep and more. We have to keep reminding MBP to be gentle, but all of the animals doesn't seem to care about it. I was scared that the goat might kick him at some point. I grew up in the city all my life so seeing these farm animals are a novelty to me. This entertainment is free as well.
MBP was super entertained with a booth that sells bubbles that we just stayed there for a bit. He also walked quite a bit, splashing one puddle to the next. Things that entertained a toddler really are free.
Food – $30.31
I didn't get to eat a lot of fair food, except for the elephant ear. I was just craving for some chicken and fries. MBP and my husband had some corndogs. Total cost for food is $30.31.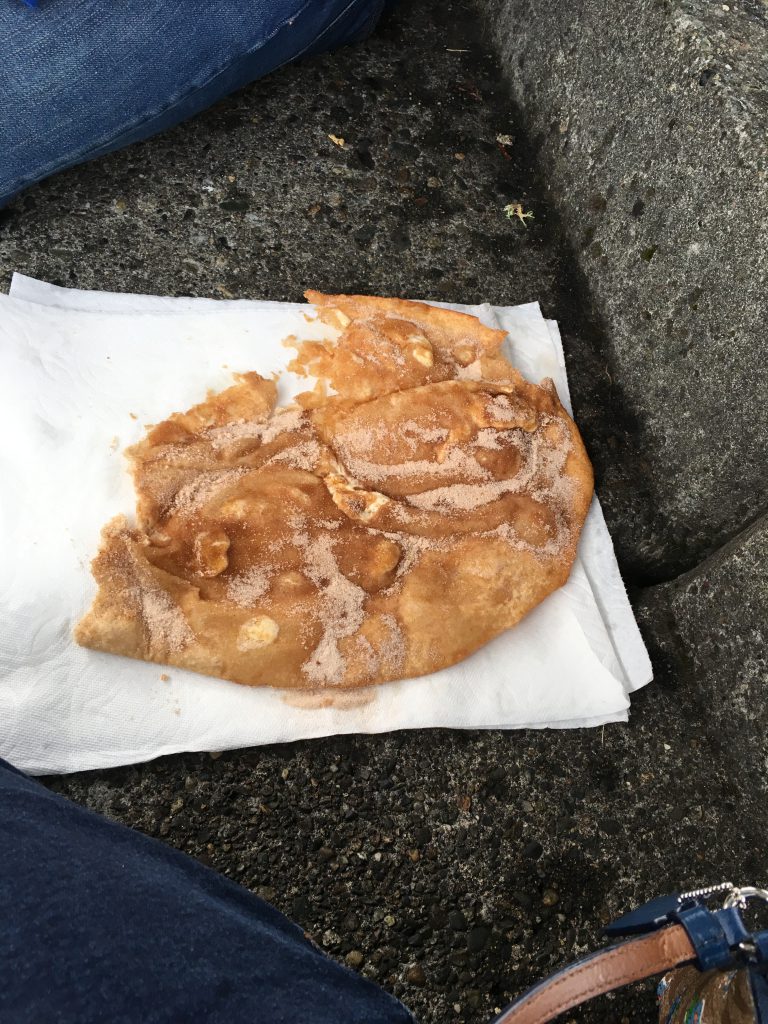 Will we go again?
Definitely!! The cost is pretty minimal for an afternoon of fun. We will probably plan well in advance to get some bulk ride tickets and discounted admission once the kids can enjoy the rides. I don't foresee this happening in the next 2-3 years.