January 5, 2022
I'm pretty sure I was more excited than the kids. I was awake at 6AM, but didn't get up just before 7AM, basically when the boys woke up. I prepared some oatmeal, using the rice cooker and cut up some apples and strawberries. We had oatmeal with raisins, with brown sugar and flaxseed with the cut up fruits. After breakfast, I prepared the boys snacks – apples, strawberries, raisins and goldfish crackers, packed in a 4 compartment bento box. For lunch, we packed some turkey lunch meat and wheat bread. My husband got some ice from the hotel and packed it in a zip lock bag, which we put in our lunch bag, along with the meat. We got our water bottles and off we went!
It took less than 10 minutes to get to the gate and probably another 20 minutes to get through security and entrance lines. We got inside Disneyland around 8:45. The crowds were not bad. It has been 18 years since my last visit, and I can't remember the layout of the theme park. I do remember the rides and the LINES. Once we passed through the main street, I saw the castle and Tomorrowland. Our first ride was Astro Orbiter. I've been watching some Youtube videos of the rides with MBP and AHP so they noticed the rocket ships right away. Lines were reasonable at around 10 minutes but we definitely had to explain to MBP the concept of waiting for our turn. We lucked out and rode Buzz Lightyear Astro Blasters just right after. The lines were short and we only waited 5 minutes. MBP was definitely entertained with this ride. When we left the ride, I noticed there were more people. We started walking around and for some reason ended up at a "It's A Small World" castle. Since the line was short, we rode the boat. I was definitely impressed by this ride. Disney still had the holiday theme and everything was so colorful. We sat by the bench after the ride and the boys had their snacks. AHP was very methodical about his snacks. He will first eat the goldfish crackers, then raisins before eating the strawberries and apples. We soaked up the Southern California Sun for a bit, had a bathroom break and let the kids run around.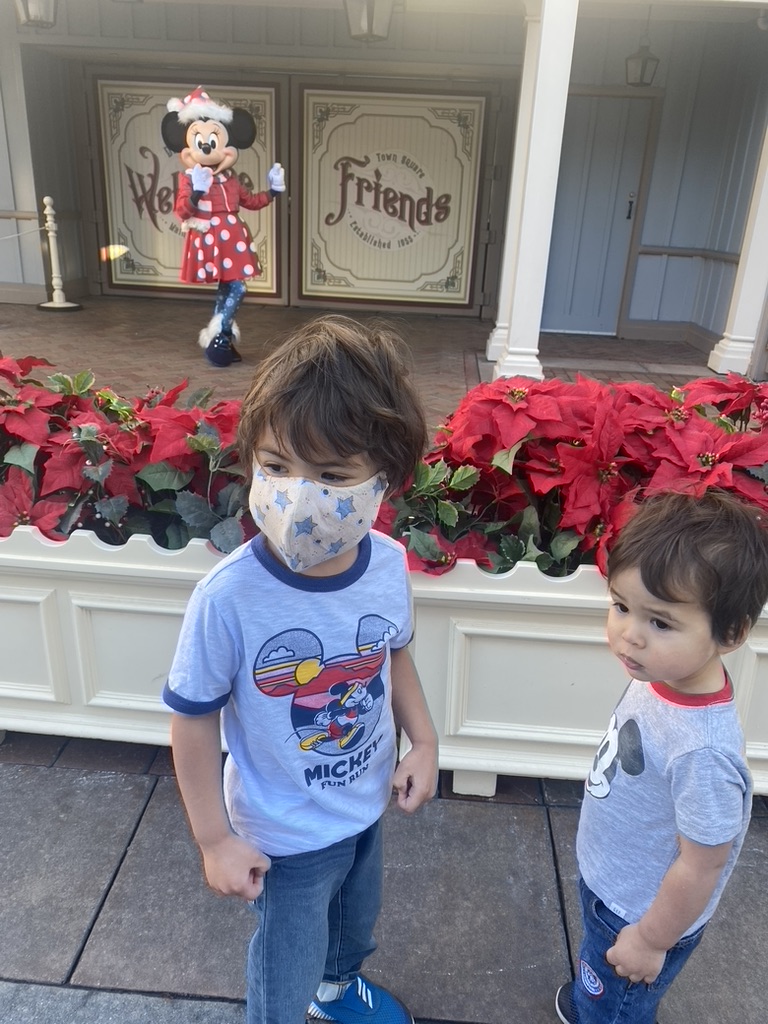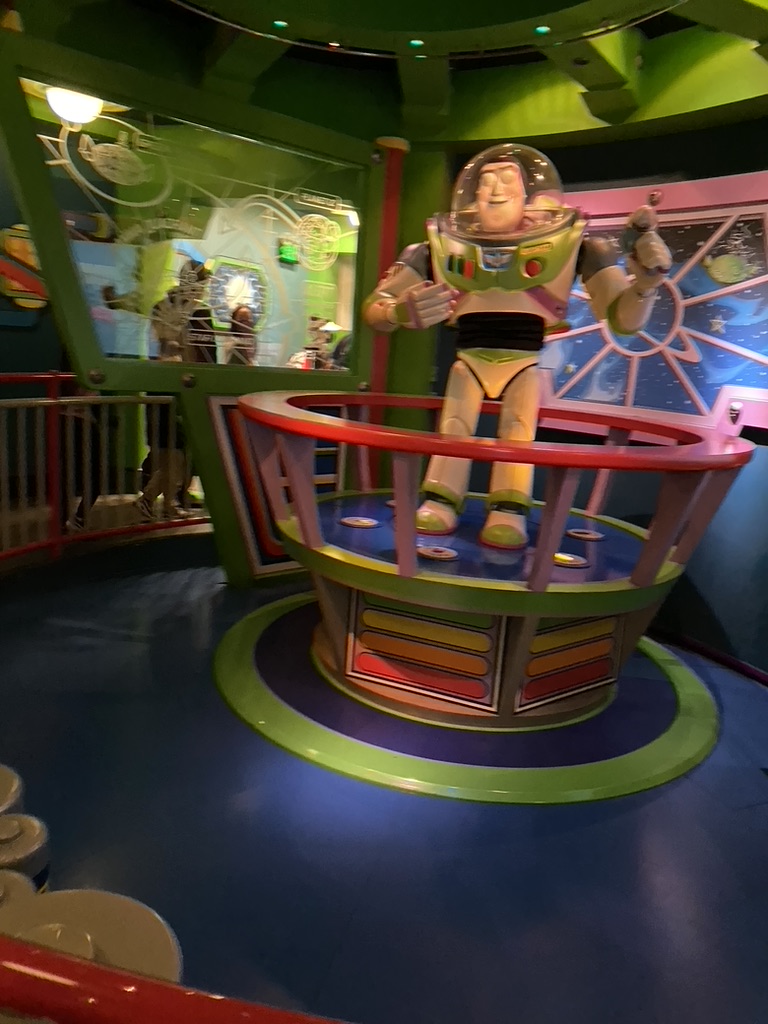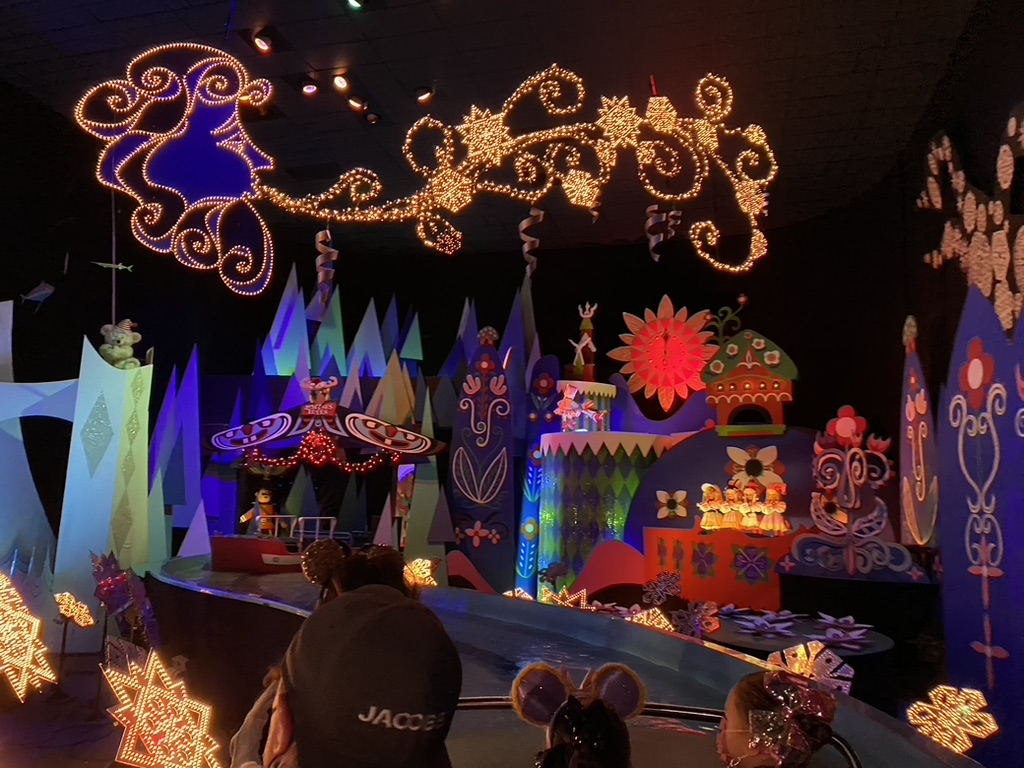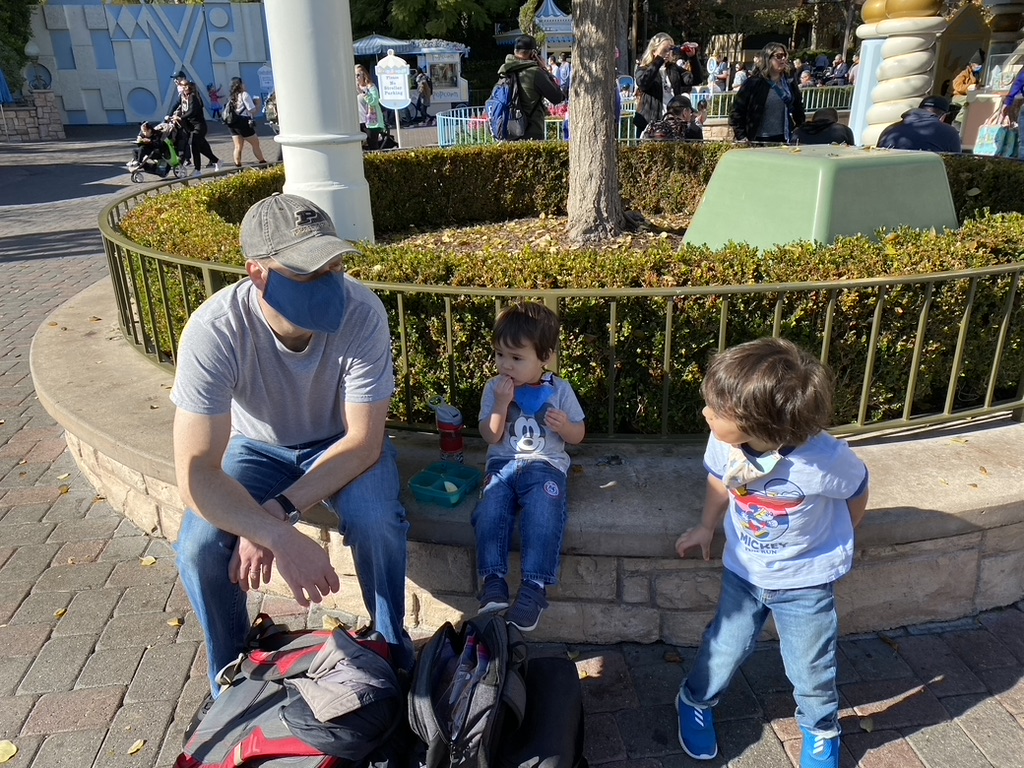 We found our way to Fantasyland and rode the Carousel, Pinocchio and Mr. Toad's wild ride. AHP was a bit scared of Mr. Toad, but was such a good sport. We then head to Toontown. There were a lot of character sightings at Toontown and it was a great place to let the kids run around. We had our lunch at Toontown Park. It's a great place to have lunch, since it is shaded and somewhat enclosed. AHP can't really sit down for more than 5 minutes. He will walk/run around, go back to us to take a bite and will run around again. We stayed in Toontown for a bit and let the kids explore the character houses and say hello to all the characters. We saw Mickey, Minnie, and Donald Duck here – just one of the many sightings on this vacation. We then headed back to our hotel for some nap breaks. On the way back, we lucked out and there was a mini parade with Donald, Pluto, Princess Anna and Elsa and Chip and Dale. It was a packed morning.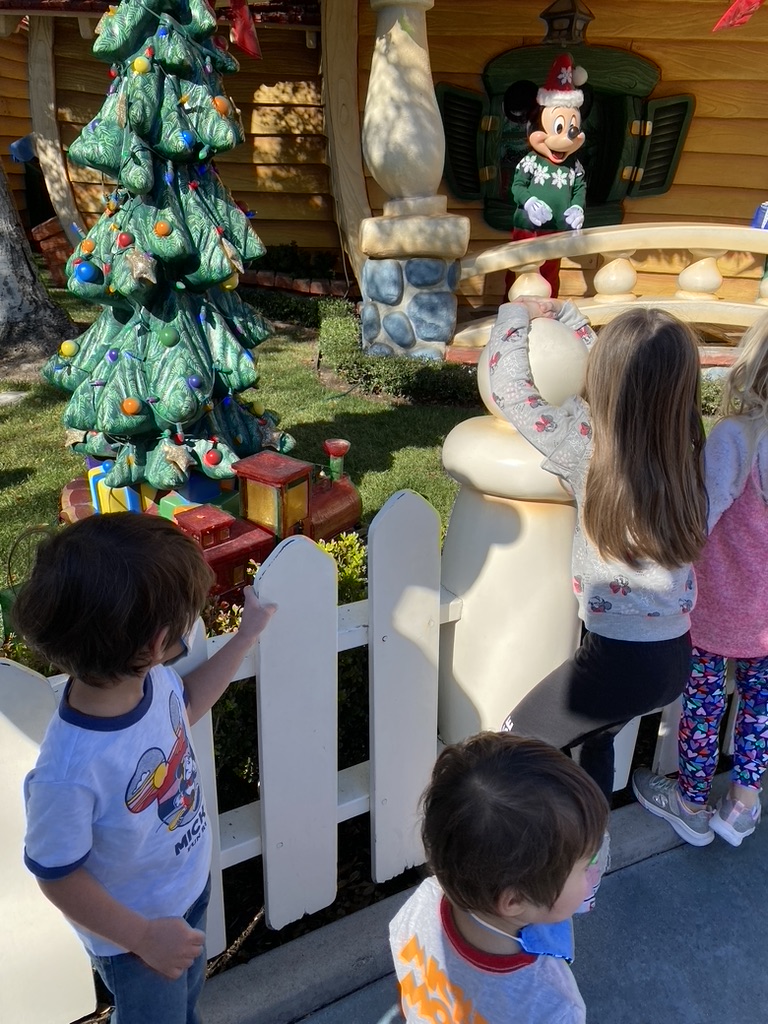 We got back before 2PM. The boys were exhausted and napped right away. I cleaned the dishes from breakfast and also had a nap. MBP woke up before AHP and we gave him the iPad. AHP napped until 4:15. We prepared some dinner of rice, rotisserie chicken with BBQ sauce and steamed veggies. Once our bellies were full, we headed back to the park.
The park was so different at night. The Christmas tree was lit and the main street was transformed with all the lights for the holidays festivities. I was so glad that we went just after the holidays. I was able to see all the holidays decorations without the holidays crowds. We went back to fantasyland and rode the mad tea cups and the carousel. We then waited in line for the Casey Train Ride, which the app said was a 5 minute wait. Well, that wait was 45 minutes. Good thing, the kids were entertained. We then head back to get some seats for the fireworks. We settled around 8:15 and waited for the show. During the wait, the kids snacked and we played a lot of games and sang some songs. It was probably the hardest wait for them since they cannot run around. The fireworks show was great and ended with some "snow" (it's really soap). We had a little bathroom break before heading back to our hotel.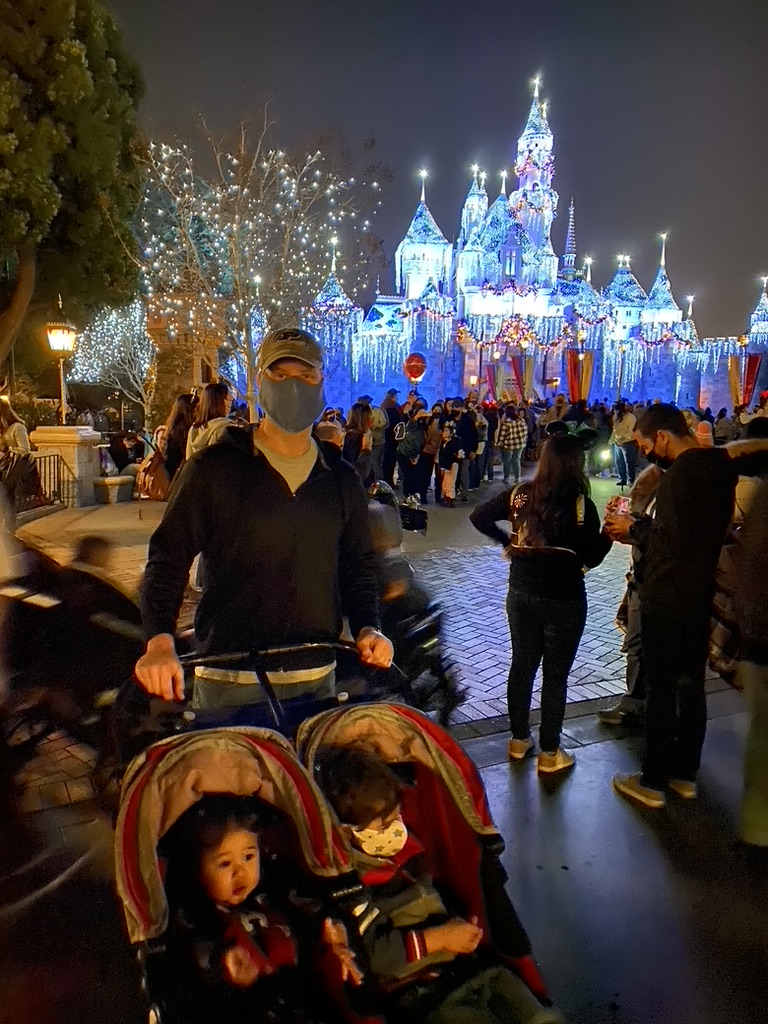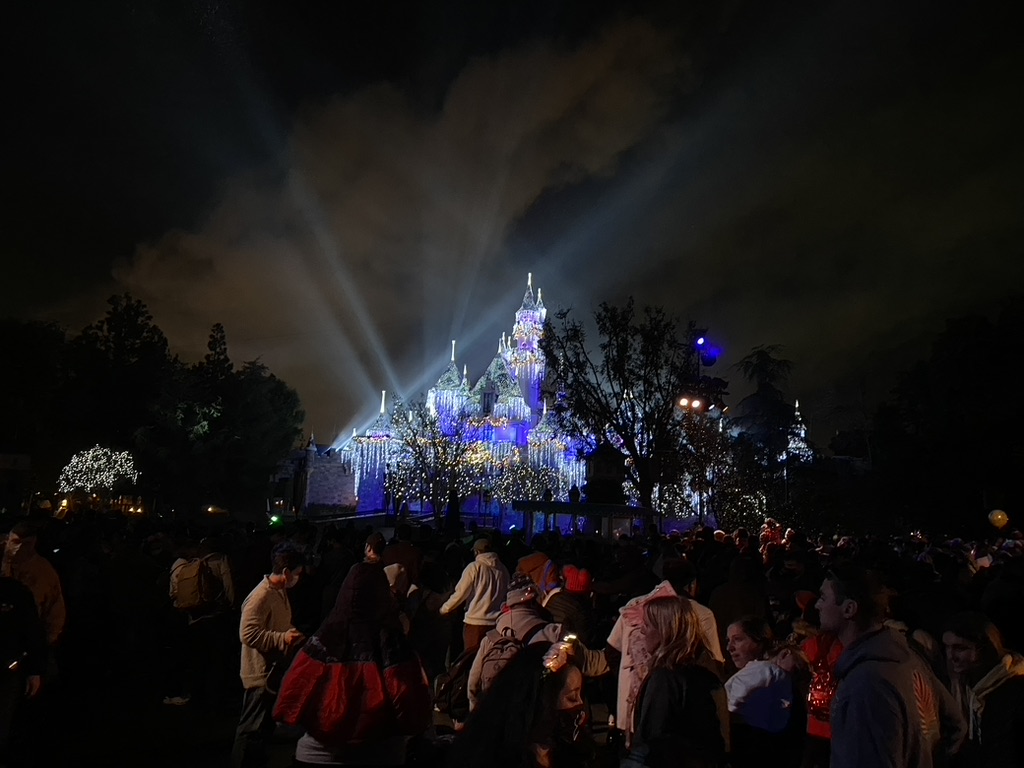 It was a rush to get the kids ready for bed, but they definitely slept well that night. Overall it was a good day!
Total Money Spent for the day: $0