January 11, 2022
We are back to Disneyland California Adventure Today. I was excited, but I also don't want to pack a lot of things in the morning to cause the kids to be over tired. So we had our leisurely breakfast of oatmeal, brown sugar with raisins along with some fruits, packed our lunch (leftover pizza and ham sandwich) and headed to the park.
We got to the security line just before the park opened and got through the main gate. MBP really wants to ride the Little Mermaid, but it was closed for refurbishment. We were lucky that it was open the last time we were here. We headed to Cars land first because I was hoping that I could convince MBP to ride the car race with me, but it was a 105 minutes wait – ridiculous, so I said no. We rode the Luigi ride with minimal wait. Afterwards, MBP wanted to ride Toy Story Mania again, so we headed towards there. On the way, we had our picture taken with the Pier in the backdrop. AHP and I went ahead in line while MBP and Dad went to the bathroom. We enjoyed the ride and I attempted to put in the 3D glasses for AHP, but I was not successful. They rode Jessie's Carousel again and then we headed back to Hollywood. On our way, my husband spotted a Mexican restaurant in the Pacific Wharf. We are eating in the park on our last day, so we decided that we will mobile order our food for tonight.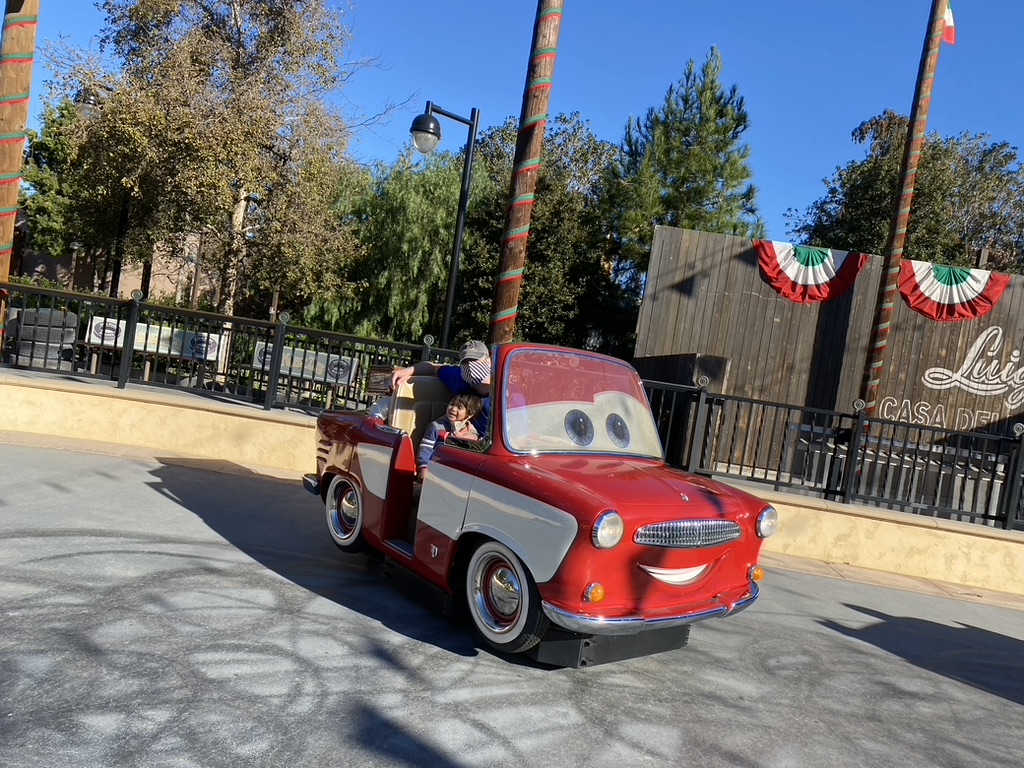 Once we're back in Hollywood, we sat down on the bench close to the theatre to have snacks and lunch. We were waiting for the Jr Dance Party. Just before we finish our meal, the theatre opens. Luckily the lines were short and we were able to get in at the 11:15 party. This was really awesome. For about half an hour, the kids were dancing and there were some characters that joined in, with Mickey and Minnie being the last one. It also snowed again, and AHP, again, was worried about the snow on my head. After the dance party, we headed to the other side of the park, by Grizzly peak. We got our pictures taken with the airplane and then headed over to the Redwood Creek Challenge Trail. MBP was scared a bit but he managed to walk on those bridge ropes. There were some animal sculptures and he imagined it being a story. AHP enjoyed running back and forth the bridges and just running in general. We were here for a bit until nap time and we headed back.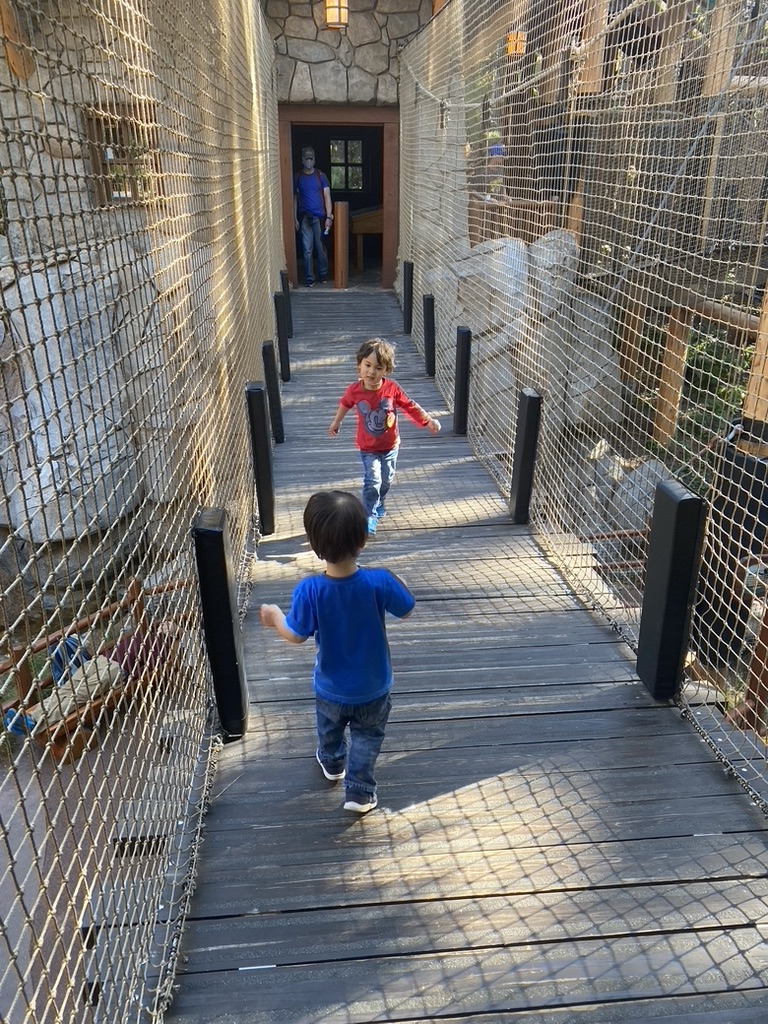 My husband ordered our food and started laundry while I put AHP to nap. It didn't take a while until the boys were napping. As always, MBP woke up before AHP and he had his iPad time. Once AHP wakes up, the kids watched some TV and then we headed back to the park. Our food should be ready by 5:30. It's our first time doing a mobile order, so I'm not sure of the logistics. I opened the app once we're at the Pacific Wharf. I got the notification a couple of minutes later that our food was ready. I'm glad that we ordered ahead because there lines were already forming. My husband picked up our order while the kids and I settled on our table. We ordered 4 different types of Tacos and a side of beans and rice. It was actually tasty. MBP ate 2 full tacos and AHP ate 1.5. As always, AHP really struggles to sit while eating. After half a taco, he just wants to run around. It's dinner time, so there was more traffic in the dining area. I told them that they can run from one point back to our chair and that seems to work. AHP will run to that point, go back to us and take a bite and then run again. That happens until he finishes his tacos. Before we left, I mobile ordered some root beer float for a treat to be picked up around 7PM.
MBP wants to go back to Redwood Creek, but we want to do something that we can't do at home, because we basically live in a forest and are surrounded by trails. We convinced him to watch the 3D Cinema with us. On our way, we had our pictures taken on Cars Land. MBP was so excited for the show, he even remembered how the doors would open. These are the things I just don't pay attention to. We got in and AHP still didn't want to put on his 3D glasses. MBP though was sooo into it. He was laughing, screaming (sometimes too loud) and very happy with the show. I had more fun watching him than the show. After the show, we went back to the Animation Studio to talk with Crush (the turtle from Finding Nemo). It was a funny bit and quite interactive. We headed back to Cars Land to get our Rootbeer float. On our way, we had our pictures taken in "Hollywood". The kids liked the ice cream, but not the float. We then met Mater and had our pictures taken with him and also had our pictures taken on "Route 66". My husband and MBP rode Mater again, while I changed AHP's diaper. The lines were short and we were not able to catched them before they rode Mater. Instead, we rode Luigi again. At this point, I'm really enjoying the small crowds in the park. It's almost closing time, and we probably have time for one more ride. MBP wants to ride Monster Inc again. This time, it was a 5 minute wait. There was absolutely no line that we roded it twice!! I'd say it's a good wrap up of our trip to Disney.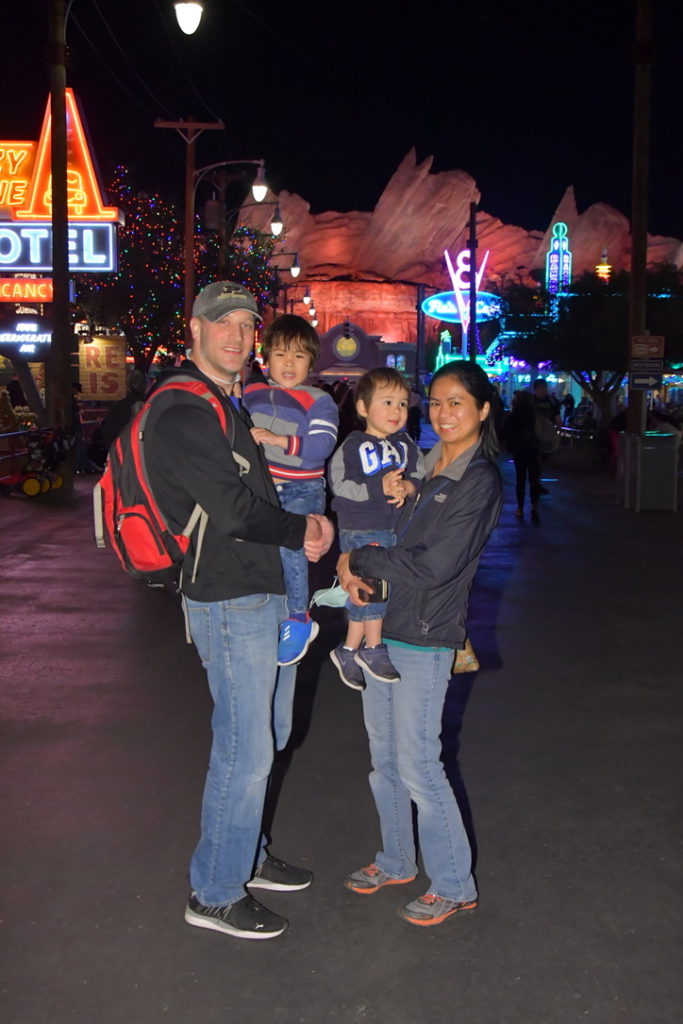 We headed back to our hotel for one last night. After the normal night time routine, the boys went to bed.
Total Money Spent for the day: $ 115.4
Genie+ : $20
Dinner at Cocina Cucamonga: $56.5
"Route" beer float: $12.9
Laundry: $6.00