January 10, 2022
We are back in Disneyland. I woke up pretty excited that I didn't even check the opening hours for Disney. On our first visit, Disney was open from 8AM – 12AM, but this time, they were only open from 9AM – 9PM. Off peak hours started. Well, we experienced our first "rope drop" since we were in the security line by 8:15 and inside the park by 8:40. Our plan was to be in Fantasyland and ride Peter Pan and get some family photos. I signed up for Genie+ once they scanned our tickets in. I just want some good family photos and we're not good at asking folks to take one of all of us. When the park opened, there was already a line at Peter Pan. This is one of the many popular rides. We waited about 10 minutes in line. We then rode the Story Book Canal as requested by AHP. He likes to go to the Big Whale mouth which he dubbed as Baby Shark. We then rode Alice in Wonderland. We have a lot of time so we got some pictures taken at the Mad Tea Cups and rode the King Arthur Carousel again. We also had our pictures taken with the sword. MBP thought that it was a real sword and asked me to help me get it. He was putting a lot of effort. We explained to him that only Arthur can get it. We went to Bibbidi Bopp Boutique to get the boys some boutons and had our pictures taken at the castle. It was basically snack / lunch time after our photo was taken and we packed quite a bit in the morning.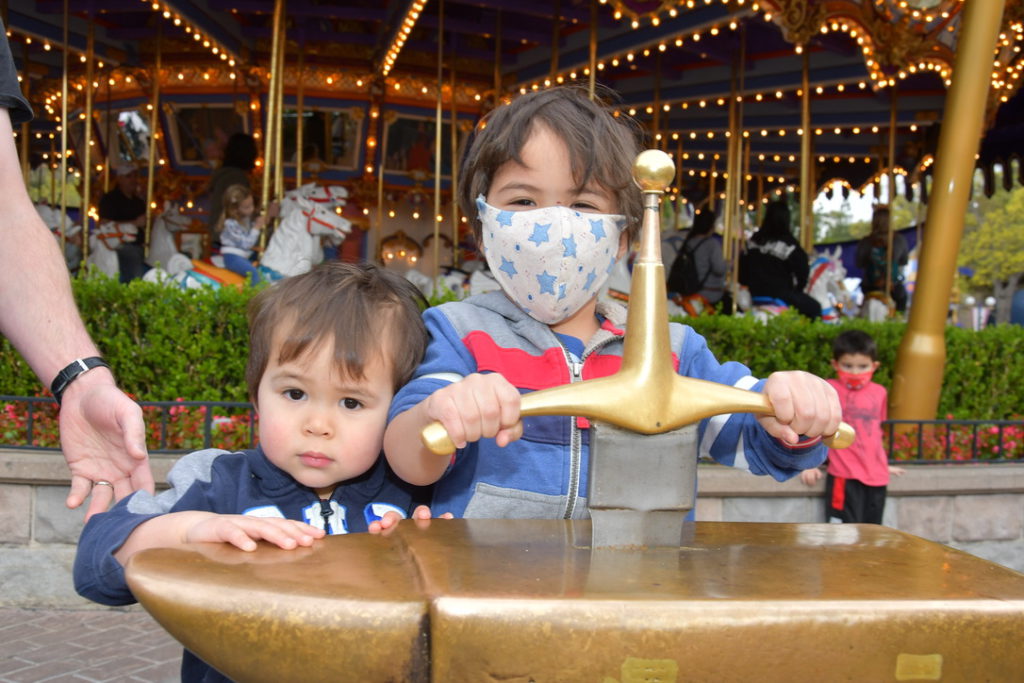 I wanted to walk to all the way to Star Wars, which was probably not a good idea at the time because everyone was hungry. Anyway, we made it there and sat on a bench with some enclosure and the kids had their snacks and lunch. We stayed there for a bit and just let the kids run around. We walked around and had our pictures taken by the Millenium Falcon. It was huge! This area was also a nice open spot for the kids to run around. By the time we got there, the Millenium Falcon opened up. I convinced MBP to go with me. BAD Idea. The poor kid was so scared, I thought he will have a nightmare over it. Luckily he just brushed it off. We got out of there pretty fast and asked MBP which ride he wants to do again and he picked the Buzz Lightyear. There was a bit of  a line, but not bad. After that ride, he seems to have forgotten all about the Millenium Falcon. We went to the store so I can get some more bubble juice for the bubble wand. Turned out that the cast member just refilled it for free. MBP was happy. We tried to see if there were some arcades that the boys can play with – there were none. We watched the Lincoln show, instead. MBP is very into "The Secret Museum" these days, so he got a kicked out of the "museum" before the show. I was impressed. After this we head back for naps.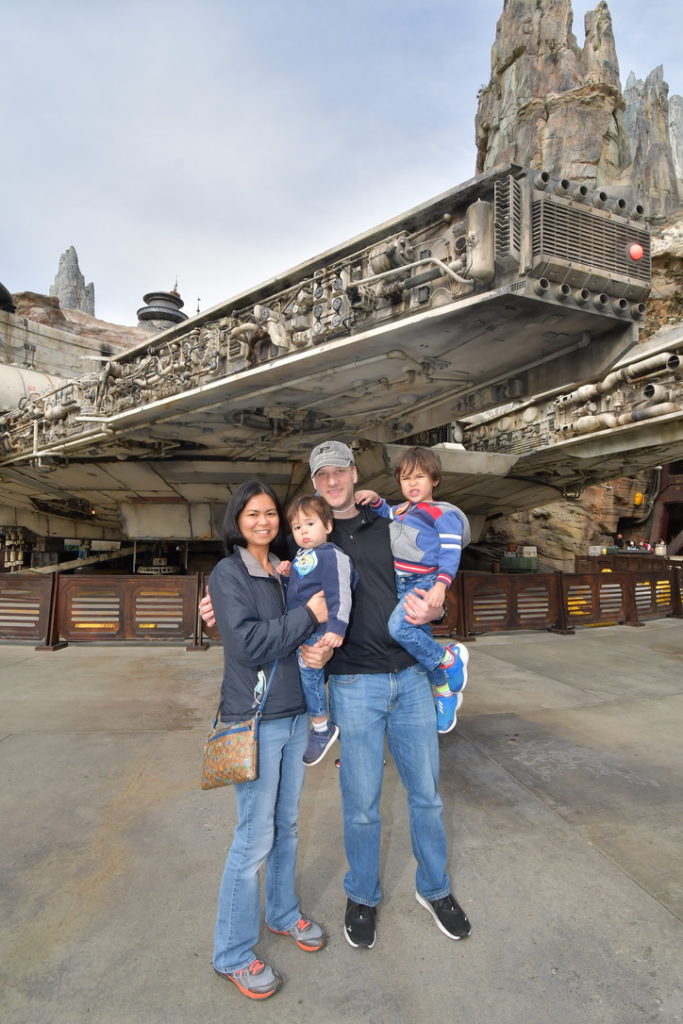 AHP had a hard time napping today and was over tired. It took him about an hour. When the boys napped, I decided to go back to Disneyland and try some rides myself using the lightning lane that comes with the Genie+. I was able to ride the Star Wars Tours and Matterhorn. I was really impressed with the Star Wars Tours but the Matterhorn is just ehh. I'm expecting more longer drops but it's more like short round drops. The kids were still napping when I got back and we let them rest.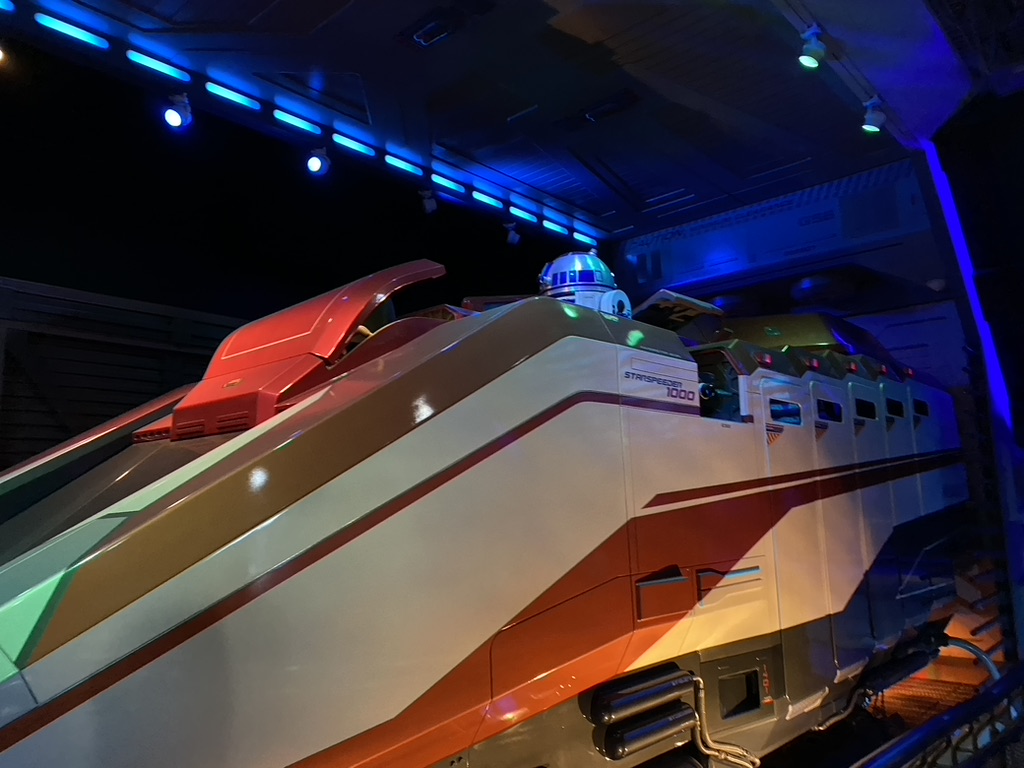 They watched some TV while the adults prepared dinner and snacks and then we went back to Disney. The crowds were definitely a lot less. MBP requested to ride It's a Small world again and then we rode the Mad Tea Cups, all less than a 5 minute wait. After the Tea cups there were some Light Up projections on the castle of It's a small world. We got some good viewing sights and MBP and AHP thought of it as a concert. We went back to ride the Buzz Light Year and then just hang outside the store to eat our snack and let the kids run around until the park closed.
We got back home and did our normal night time routine. It didn't take a while for the kids to sleep. That night, I made sure to check the time for Disneyland California Adventure. Tomorrow is our last theme park day.
Total Money Spent for the day: $20
Genie+ : $20